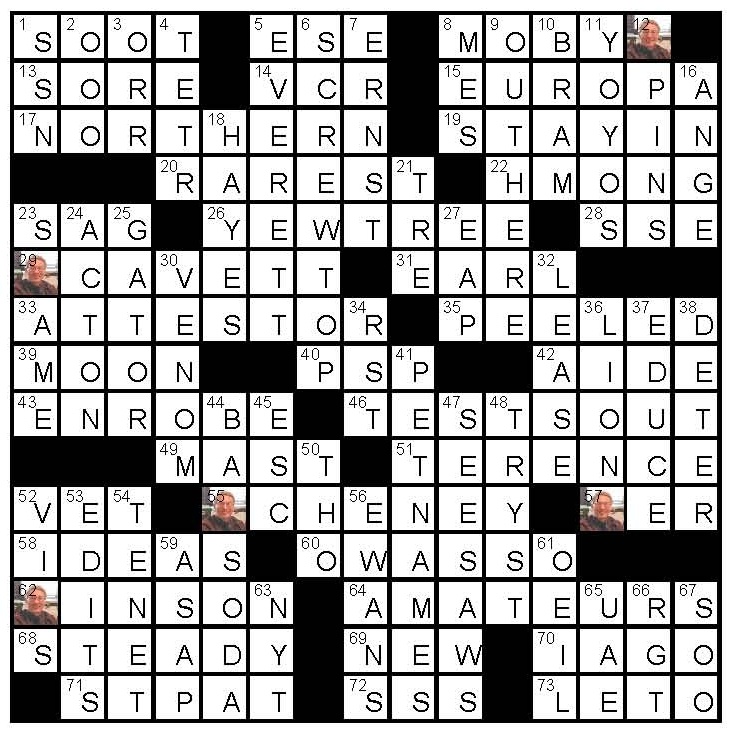 In every square in the puzzle grid where Dr. King's picture appears, the Across word reads "DICK" for that square, and the Down word reads "KING" for that square.
8-Across = MOBY-(dick), 12-Down = (king)PINS
29-Across = (dick)_CAVETT, 23-Down = S(kin_g)ame
55-Across = (dick)_CHENEY, 44-Down = BA(king)_SODA
57-Across = (dick)ER, 36-Down = LION(king)
62-Across = (dick)INSON, 52-Down = VI(king)S
Once you have completed the puzzle, you will see a special message running diagonally, starting in the upper-left corner.
As already indicated, this puzzle was distributed on January 7, 2014, at a party in honor of Dr. King's retirement after 39 years as a physician/scientist at the University of Minnesota Medical School.
If you want to tell others about this particular page, refer them to http://tinyurl.com/retiresolution