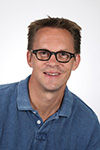 Joseph J. Dalluge, Ph.D.
Director - Mass Spectrometry Lab
jdalluge@umn.edu
(612) 625-8099
Joseph J. Dalluge is Director of the Mass Spectrometry Laboratory in the Department of Chemistry at the University of Minnesota. Dr. Dalluge received his B.A. in 1991 from Gustavus Adolphus College in Saint Peter, MN, and his Ph.D. in 1996 in Biochemistry at the University of Utah with Professor James A. McCloskey. He joined the National Institute of Standards and Technology (NIST) from 1996 to 1998 as a National Research Council Postdoctoral Associate, and continued work at NIST as a Research Scientist from 1998 to 2001. From 2001 to 2008, he worked at Cargill Incorporated Central Research, until his move to the University of Minnesota in 2009.
Dr. Dalluge is a member of the University of Minnesota Center for Analysis of Biomolecular Signaling and is interested in the use of mass spectrometry for metabolite profiling, biomarker identification and assay development using HPLC and UPLC combined with electrospray mass spectrometry primarily on triple quadrupole and quadrupole-time-of-flight instrumentation. Current efforts focus on the sensitive detection and quantification of medically relevant diagnostic markers; identification of compounds relevant to molecular signaling, inflammation, and cellular aging; and targeted metabolite profiling and identification of biomarkers relevant to nanotoxicity and for development of metabolite profiling approaches to biodiversity research.
Dr. Dalluge has been a member of the American Society for Mass Spectrometry since 1994 and is a member of the American Chemical Society. He has 28 publications and one patent, is past President (2003/04) of the Minnesota Mass Spectrometry Discussion Group, and a member of the Editorial Board of Current Protein and Peptide Science.
Recent Publications
Dalluge, J.J., Connell, L.B. On the Potential of Mass Spectrometry-Based Metabolite Profiling Approaches to the Study of Biochemical Adaptation in Psychrophilic Yeast. Extremophiles (2013) 953-961.
Connell, L.B., Rodriguez, R.R., Redman, R.S., Dalluge, J.J. Cold-Adapted Yeasts in Antarctic Deserts. In P. Buzzini, R. Margesin (eds.) Cold-Adapted Yeasts, DOI: 10.1007/978-3-642-39681-6_4, Springer-Verlag Berlin Heidelberg 2013.
Meyer, A.F., Thompson, J.W., Wang, Y., Koseoglu, S., Dalluge, J.J., Haynes, C.L. Isotope-Dilution UPLC-MS/MS Determination of Cell-Secreted Bioactive Lipids. Analyst 138 (2013) 5697-5705.
Gruba, S.M., Meyer, A.F., Manning, B.M., Wang, Y., Thompson, J.W., Dalluge, J.J., Haynes, C.L. Time- and Concentration-Dependant Effects of Exogenous Serotonin and Inflammatory Cytokines on Mast Cell Function. ACS Chem. Biol. (2013) 503-509.
Mbughuni, M.M., Chakrabarti, M., Hayde, J.A., Meier, K.K., Dalluge, J.J., Hendrich, M.P., Munck, E., Lipscomb, J.D. Oxy-Intermediates of Homoprotocatechuate 2,3-Dioxygenase: Facile Electron Transfer Between Substrates. Biochemistry 50 (2011) 10262-10274.
Ross, K.L. and Dalluge, J.J. Liquid Chromatography/Tandem Mass Spectrometry of Glycolytic Intermediates: Deconvolution of Coeluting Structural Isomers Based on Unique Product Ion Ratios. Anal. Chem. 81 (2009) 4021-4026.
Ross, K.L., Tu, T.T., Smith, S., Dalluge, J.J. Profiling of Organic Acids during Fermentation by Ultraperformance Liquid Chromatography-Tandem Mass Spectrometry. Anal. Chem. 79 (2007) 4840-4844.