This web site [conveniently found at http://tinyurl.com/katebarany] to honor the memory of Kate Bárány was set up mid-June 2011 and is a work in progress (most recent update July 2012). Please bear with us as we gather photographic, audio, and video materials and set up links. Many of the print obituaries will not accommodate Hungarian accents. Please report any problems to our webmaster, Eric Schulz. The long obituary that appears below was drafted in 2005 by Michael Bárány, edited further in 2011 by family members, and finalized with the expert assistance of Jeanne Galatzer-Levy of the Office of Public Affairs, University of Illinois at Chicago. Following the obituary are sections entitled "more information," "obituaries and memorials for Kate Bárány," "various anecdotes involving Kate Bárány," and "family photos."
George Barany, on behalf of the Barany family.
Note: Michael Bárány passed away just six weeks after Kate, click here for his web page.
Kate Bárány (1929-2011)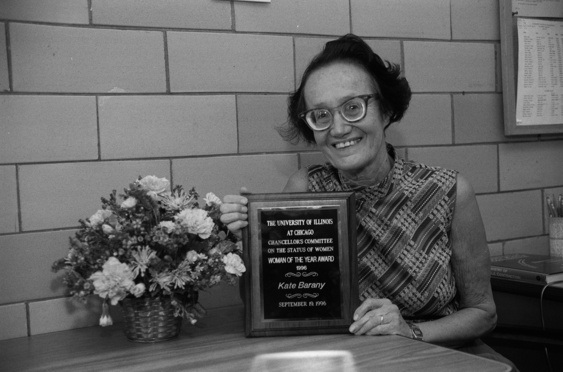 Kate Bárány, professor emerita of physiology and biophysics at the University of Illinois at Chicago (UIC) College of Medicine, passed away peacefully on June 13, 2011 in St. Paul, Minnesota, of complications from a stroke.
Bárány was an expert on the physiology of muscle and muscle disease who during her illustrious career published 82 full papers and 12 book chapters on the physical chemical characterization of proteins, the physiology of muscle contraction, and protein phosphorylation. She was a member of the Federation of American Societies for Experimental Biology (FASEB), the American Physiological Society, and the Biophysical Society.
Beyond Kate Bárány's active research program, she was a much beloved educator of medical, dental, and graduate students at UIC, where she was the recipient of the Golden Apple for Excellence in Teaching, the Philip Hawley Distinguished Faculty Award, the Teaching Recognition Program Award, and the Urban Health Enrichment Award, to name a few.
"All who had the honor of knowing or working with Kate in our department have special and unforgettable memories," said R. John Solaro, Distinguished Professor and Head of the Department of Physiology and Biophysics. "She epitomized the strength of the human spirit. She was a remarkable colleague and educator with the highest standards and accomplishments in teaching excellence, in world-renowned research, and in exceptional service at all levels."
Bárány was a dedicated advocate for women in science and medicine, and mentored many young scientists, students, and colleagues while sharing her wisdom on balancing career, family, and health (she was an avid swimmer). She was instrumental in establishing the UIC Children's Center and fought for flexible tenure, career guidance for women in science, female-friendly facilities and equal pensions for men and women. In recognition of her active efforts as well as her history as a role model going back to a period when very few women chose a scientific profession, Kate was named the Woman of the Year for the University of Illinois at Chicago in 1996.
Bárány was born in Békéscsaba, Hungary on April 29, 1929, the younger child of prominent Jewish physician Mihály Fóti and his wife Adél (nee Weisz). She excelled in her primary education despite the anti-Semitism of the time, and was an accomplished young pianist, who had hoped for a concert career. In 1944, she was deported to the Auschwitz concentration camp and after its liberation spent a further eight months in a Soviet prisoner camp in Belorussia.
Back in Hungary after the war, Bárány supported herself by washing dishes and tutoring, finished her high school (Gymnasium) education, and studied physics, physical chemistry, and mathematics at the Eötvös University of Budapest, obtaining an M.Sc. in Physics in 1952. In 1949, she married Michael Bárány, a medical student and fellow Holocaust survivor who would become her lifelong collaborator (scientific and otherwise). While there was a chance encounter in June (Michael administered first aid when Kate cut her finger while slicing a loaf of bread) and the civil ceremony occurred in October, the essential courtship of Kate and Michael occurred over the four-day period August 1-4, and these days were the anniversary they celebrated for the next six decades. The couple fled from Hungary in 1957 in the wake of the Revolution, passing through Yugoslavia and Israel before reaching Germany in 1958, where in 1959 Kate completed her doctorate in physical chemistry at the Goethe University, Frankfurt am Main.

The couple immigrated in 1960 to New York, NY, with their two sons George and Francis. They worked at the new Institute for Muscle Disease until its 1974 closing, when they both joined the faculty at the University of Illinois at Chicago College of Medicine. Kate Bárány was active in research and teaching until impaired vision forced her to retire in 1998 and she was named professor emerita.
Kate and Michael Bárány were invited to write their autobiography for the "Selected Topics in the History of Biochemistry" (an Elsevier series). Their chapter, entitled "Strife and Hope in the Lives of a Scientific Couple," was published in 2000. Until their illnesses, the pair regularly walked to and from work together, and were known around campus as "the professors who held hands."
When interviewed for a story about the UIC Woman of the Year award, Bárány made it clear that her proudest accomplishment was the success of her children. Both her sons regularly came to their parents' laboratories through much of their childhoods. George entered the Ph.D. program at The Rockefeller University in New York at the age of 16, while Francis at age 17 was featured on the cover of The New York Times magazine as "Lord of the Venus' Flytraps." Currently, both are professors, George Barany in the Department of Chemistry at the University of Minnesota - Twin Cities and Francis Barany in the Department of Microbiology and Immunology at the Weill Cornell Medical College, New York City.
Kate Bárány was admired by friends and family for her optimism, vitality, and cheerfulness. She rued the lost opportunity to become a concert pianist, but led an active and rich cultural life that included subscriptions to the opera and ballet. Kate and Michael supported awards at UIC, at the University of Minnesota, and with the Biophysical Society – their common thread was to recognize and honor students and scientists at early stages of their advanced education or professional careers.
Throughout much of the 1990's, Kate was active in outreach activities that had the aim to inform American schoolchildren of the horrors of the Holocaust [click here for transcript of one such lecture]. She was the subject of a lengthy interview as part of Steven Spielberg's Shoah Foundation project.
Kate is survived by her husband of nearly 62 years, Michael, her sons George (Barbara) and Francis (Rachel), and grandchildren Michael, Deborah, Isabelle, and Lilly.
In lieu of flowers, donations may be made to the Kate Bárány Ph.D. Award in Physiology and Biophysics, which each year honors a graduate student who is diligent, conscientious, punctual, well organized, and who displays a high degree of integrity (i.e., the qualities she considered most important for professional success). Checks for "UIF-Kate Bárány Award" mailed to University of Illinois Foundation, 1305 W. Green Street, Urbana, IL 61801. Alternatively, online giving can be conducted by clicking here, enter "UIF-Kate Bárány Award #771222" in one of the boxes marked "other", then hit "continue" at bottom of page. Questions, call 217-333-0675. UPDATED (March 2012): The family prefers that you support the "Barany Awards Supplementation Fund (Account #337535)" -- other aspects of making donation are the same.
More information may be found at:
Michael & Kate Bárány Home Page from 2006
Home page of Michael and Kate Bárány, with biographical information, most important publications, and interesting links. Compiled in 2006, primarily by MB, and not updated other than to note their deaths and refer to the present page for Michael and the corresponding one for Kate.
Symposium in Tribute to Professors Michael and Kate Bárány - May 11, 1996
Introductory remarks by Donald A. Chambers run about 15 min; rest of the link is the scientific lecture of R. John Solaro. which has a few personal remarks right after the start before the scientific portion of his talk begins (and apologies for a buzz that goes through part of that section). Click here for Symposium program, and here for a gallery of photographs.
Vistas in Genetic Analysis
Lecture (28 min) by Francis Barany at Symposium in Tribute to Professors Michael and Kate Bárány, starts at the 5 min mark, following introduction by Donald Chambers. Personal reminiscences included.
A Tapestry of Protein Science
Lecture (23 min) by George Barany on May 11, 1996 at Symposium in Tribute to Professors Michael and Kate Bárány. Personal reminiscences included, and here is a link to the slides that were shown (unfortunately, not in sequence). The final 6 min of the tape are moderated by Don Chambers, and include brief but touching remarks by both Kate and Michael.
Woman of the Year - September 19, 1996
Audio recording of the award ceremony (click here for introduction to general award criteria). Chancellor Broski speaks for 10 min about University business, then makes a 5 min presentation, then applause, then Kate's "acceptance" speech starts at the 15 min mark with her speaking for slightly over 7 min.
Retirement of Kate Bárány on October 23, 1998
Total 41 min. Click here for program, and here for photos taken at the event. Master of ceremonies R. John Solaro, with remarks by Sarah Appel, Christian Evans, LaVerne Richardson, Helen Rarick, and Mrinalini (Meena) Rao, plus a list of "top ten reasons for missing Kate" prepared by Departmental staff, and the reading by Primal de Lanerolle, of a poem by Mark Rasenick called "Miss Me Kate." Renaming of Department library in Kate's honor. Kate herself speaks for about 5 min, starting at the 34 min mark, including endowment of an award to a graduate student who is diligent, conscientious, punctual, well organized, and displays a high degree of integrity.
Michael and Kate Bárány Award for Young Investigators (1998)
A joint biographical sketch of Michael and Kate Bárány, written by Sarah Hitchcock-Degregori and published in the Biophysical Society newsletter.
Interview of Kate Bárány on August 5, 1999
Total 32 min. The day after her 50th anniversary, Kate was interviewed by her daughter-in-law Rachel Conescu Barany.
Sixty Interesting Facts about the Number Sixty
Presented to Michael and Kate Bárány on the occasion of their 60th anniversary.
Obituaries and memorials for Kate Bárány:
Legacy.com search for "Kate Barany" without accents, and it will link you to five published obituaries in newspapers: St. Paul Pioneer Press, Minneapolis Star Tribune, Chicago Sun-Times, Chicago Tribune, and The New York Times. Here is a link to a longer obituary in the UIC News.
Guestbook link (guestbook comments associated with any of the five obituaries merge into a single document, which has been captured here as a pdf)
This article, written in Fall 2011 by Paul Hagen of the Episcopal Church Home in St. Paul, describes the dramatic final months of the Báránys.
The University of Illinois at Chicago (UIC) College of Medicine held a "Tribute to Kate & Michael Bárány: Hope Conquers Strife. Their Science and Legacy" on April 9, 2012. Link to the complete audio is here and photos taken at the event are here. Former Board of Trustees Secretary Michelle Thompson spoke on "Kate and Michael Bárány - Service to the University." Michael J. Barany spoke on "Rigor, Intuition, and My Scientific Grandparents' Legacy" which included the following slides. Other highlights included this poem about the Báránys that was written and read by Mark Rasenick, and this compilation of the stories of all recipients of the Kate Bárány Graduate Student Award.
On April 20, 2012, George Barany spoke at the Mount Zion Temple in St. Paul on "The Spirit of Survival: Lessons from Holocaust Survivors." A full transcript is here. Link to video of George Barany's sermon here.
On Sunday morning, July 22, 2012, the cremains of Michael and Kate were interred at Mt. Zion Cemetery in St. Paul, and a memorial stone was unveiled. Daniel Nack conducted the service, Deborah Barany gave the eulogy, and additional remarks were made by Mariano Rivera, and read from Judit Taylor and from Suzanna Lengyel.
The Episcopal Church Home held a dedication of the Michael & Kate Bárány May House Courtyard on July 22, 2012, as documented here. The courtyard was designed by Ned Souder, who describes his vision here.
The Episcopal Church Home held a dedication of the Michael & Kate Bárány May House Courtyard on July 22, 2012, as documented here (print) and here (13 minute video). George Barany's welcoming remarks, which include thanks to all who cared for our parents in their final days, are here. The courtyard was designed by Ned Souder, who describes his vision here. Coming in another week or so, a 15-minute video about the ceremony.
The Department of Chemistry at the University of Minnesota held a dedication of the Kate & Michael Bárány Conference Room on July 23, 2012. Here is the program, and here is a powerpoint slide show that was playing in the background. In addition, George Barany and friends constructed two crossword puzzles specifically for the occasion. Pictures and other documentation from the event will be posted shortly.
A special issue of the Journal of Muscle Research and Cell Motility, edited by Joseph Chalovich, will appear in the summer of 2012, dedicated to the Báránys' memories.
Various anecdotes involving Kate Bárány:
For a while, Kate ran the only analytical ultracentrifuge east of the Iron Curtain. In this capacity, she met renowned Hungarian peptide chemist Miklos Bodanszky while still pregnant with her soon-to-be-first-born George. Many years later, George and Miklos became good friends through the American peptide community. Currently, Kate's grandson Michael and Miklos' daughter Eva are neighbors in Princeton, New Jersey.
Kate submitted a scientific paper for publication on the Saturday morning (February 19, 1955) that George was born.
Back when George was maybe 9 or 10 years old, and his brother Francis of course two years younger, we took a family vacation at a modest resort in the Catskills. The drive was short enough that our father came up only on weekends. There was a small pond, and Francis caught a frog, which Dad opened up to show the beating heart, etc. When Dad was done with the demonstration, Mom used black thread from her sewing kit to repair the scission, and then Francis threw the frog back into the pond. About a week later, he caught the same frog, easily identifiable by the black thread.
During the mid-60's, Kate Bárány was asked to represent the scientific side of the Institute for Muscle Disease at some Muscular Dystrophy Association of America (MDAA) function [this is the organization that for many years has had a Labor Day telethon hosted by Jerry Lewis]. Kate passionately explained her research to her neighbor on the dais, New York Yankees slugger and future Hall-of-Famer Mickey Mantle, who listened politely. Upon concluding, she said, "...and young man, what do you do for a living?" [for a fascinating coda, listen to this short song, appreciated in the context of this recent obituary.
...and slightly related ...
In 1967, the Barany family moved into an upper East side (of Manhattan) apartment complex called "Newport East" which featured a moderate-size swimming pool on the roof, along with a green Astroturf carpet all around the pool area where tenants and their guests would sunbathe on their lounge chairs. One summer day, Kate was with her friend Marti Markus, who she had known since they were schoolgirls together in Hungary, and who at the time was the head nurse at Lenox Hill Hospital, known for some of its celebrity athlete patients. Kate observed a man wearing a short white bathing suit, and remarked (in Hungarian) to her friend how scandalous he was, showing up in his underwear. Marti quickly retorted, "That's Joe Namath [then quarterback for the New York Jets] and he understands Hungarian!"
Kate and Michael once hosted a dinner party at their apartment in Chicago, and a guest brought a bottle of wine. There was no corkscrew in the apartment, so they used a screwdriver and hammer from their tool box in order to open the bottle.
A little known fact about Kate's family tree: The mother of Kate's father was the cousin of Gustav Mahler's neurotic Austro-Hungarian Jewish mother.
Family photos: (these are above and beyond some that were embedded in the earlier narrative) (more to come once we get better organized)
Kate on left, then her father, mother, and brother in prewar Hungary:
Kate and Michael by the Institute for Muscle Disease (New York City) analytical ultracentrifuge:

Taken circa 1975, after Kate and Michael movied to Chicago, on the lawn of
the "Campus Green" apartment complex:

Taken on the occasion of the marriage of George and Barbara, March 29, 1986:

Taken on the occasion of the marriage of Francis and Rachel, November 10, 1991:

Kate's four grandchildren, on family vacation in summer 1997:

The golden years ...

New York Baranys visit in summer of 2008:

Minnesota Baranys visit in summer of 2009:

"Kiss Me Kate"

April 29, 2011, "Happy Birthday to Me"




April 29, 2011, Kate blows out the candle:

Michael and George holding Kate's hand while keeping vigil at her bedside: