09/7/2007
Transforming a pollutant from bad to worse
Recent Research from the group of Professor Kris McNeill.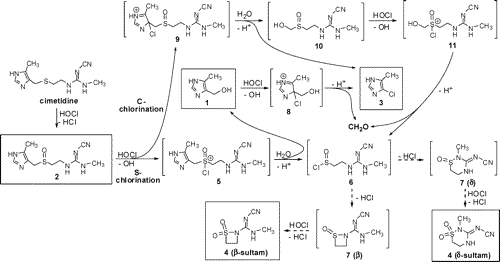 Scheme 1. This scheme shows the proposed transformation pathways that take cimetidine to its major products.
Recent research by graduate student Jeff Buth shows that chlorination of cimetidine, a commonly used heartburn drug found in wastewater, leads to unexpected products. Some of these products, including 4-chloro-5-methylimidazole (3 in Scheme 1), are expected to have a greater ecological impact than the parent compound. This result poses a dilemma for water utilities as chlorination is a widely used disinfection method for wastewater and "micropollutants" such as cimetidine are newly recognized wastewater contaminants. This research is part of a long-standing collaboration between Kris McNeill of the Department of Chemistry and Professor Bill Arnold of the Department of Civil Engineering on the fate of pharmaceutical pollutants in the aquatic environment.
You can read more about this research in the online edition of Environmental Science and Technology.
Unexpected Products and Reaction Mechanisms of the Aqueous Chlorination of Cimetidine
Jeffrey M. Buth, William A. Arnold, and Kristopher McNeill
Environmental Science and Technology, 2007, ASAP. [LINK]