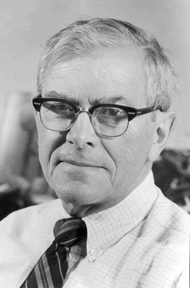 Stuart W. Fenton
(April 29, 1922-February 4, 2006)
Stuart W. Fenton devoted 35 years of his life to serving students at the University of Minnesota. He was a friend we shall miss, and he will live on in the appreciation of his many students. He passed away on February 4, 2006 from heart valve complications. He is survived by his wife, his brother, Gerald, and several nieces and nephews. There was no service before cremation but there was a memorial in the Dale Shepard Room of the Campus Club at the University of Minnesota in Minneapolis on May 22, 2006.
Stuart was born on April 29, 1922 in London, Ontario. Descended from Scottish Tories who emigrated from the United States to Canada during the Revolutionary War, he worked as a Dominion of Canada Wartime Fuel Technologist from 1942-45 while studying for his B.S. degree, which he received in 1945 from Queen's University, Kingston, Ontario, contemporary with Alfred C. Bader, founder and former President of the Aldrich Chemical Company. The following year he took an M.S. degree at Queen's University under the supervision of Dr. J. A. McRae while also working as a Research Officer at the National Research Council of Canada in Ottawa under Dr. Leo Marion, a noted alkaloid chemist. He then went to the Massachusetts Institute of Technology for his Ph.D. under Dr. Arthur C. Cope, who became a President of the American Chemical Society and was the donor of the funds for the well-known Arthur C. Cope Awards in Organic Chemistry. Completing his Ph.D. in 1950, he was awarded an Arthur D. Little Postdoctoral Fellowship, which allowed him to continue his work at MIT for an additional year. Five papers arising from his work at MIT, involving 7- and 8-membered ring polyolefins, were published in the Journal of the American Chemical Society during 1951-52.
Stuart joined the Chemistry Department of the University of Minnesota in 1951 as an Assistant Professor, a position which he held from 1951 to 1957. He was awarded an Alfred P. Sloan Foundation Fellowship for the period 1956-60. He was promoted to Associate Professor in 1957 and to Professor in 1960, continuing to June 1986, for a total of 35 years. His early research at Minnesota, often in collaboration with his colleague Richard T. Arnold, dealt with aspects of physical organic chemistry, including four papers on the steric effect of methylene groups, the dienone-phenol rearrangement, identification of Lagidz's hydrocarbon, and the possible effects of hyperconjugation on the solvolysis rates of benzhydryl chlorides. Work with his doctoral student Melvin W. Hanna (who subsequently authored a textbook on physical chemistry) on ring-opening in benzocyclobutene derivatives was reported in two papers in the Journal of Organic Chemistry. Later work with his students (including research assistant Sadanand Pathre) in collaboration with Prof. Chester J. Mirocha of the Department of Plant Pathology led to a series of four papers on the characterization and analysis of mold metabolites (mycotoxins), the 8'- and 3- hydroxyzearalenones, produced by Fusarium roseum. He received an Outstanding Achievement Award from the University in 1988 for his work in the development and synthesis of Roundup(r) herbicide, which now has annual sales of over a billion dollars.
Stuart became Vice Chairman of the Chemistry Department in1955 and Professor and Chairman of the Chemistry Department in 1960, serving in that capacity for seven years. A dedicated teacher, he clearly felt that teaching was a very important part of the academic enterprise and particularly enjoyed teaching Organic Qualitative Analysis. On May 27, 1981 he was awarded the George Taylor/I.T. Alumni Outstanding Teaching Award.
Stuart was also very active in external and University affairs, serving on at least 17 University committees, at least four as Chairman. At the department level, he played a major role in the design of Smith and Kolthoff the undergraduate laboratories and classrooms and with determining, in difficult cases, whether or not students were eligible to pay resident tuition. He was a loyal member of the Campus Club (the faculty club) and served as President of the Board of Governors.
On Nov. 11, 196l, Stuart married Eleanor ("Sis") Salisbury, then Associate Dean of what is now the College of Continuing Education (CCE), who had deep roots in Minneapolis, since in 1877 her great grandfather founded the Salisbury Mattress Co., formerly located in St. Anthony Main, at 104 2nd St. S.E..
Stuart was a bridge player, an avid fisherman (including being a fly fishing purist), a skier (Utah), a photographer, a world traveler, a reader, and he loved his dogs. He return each August to the family tract of timberland north of Buckingham, Quebec, which included several small lakes and shared frontage on a bigger lake with a major timber company. In August 1976, Stuart invited me to stop by on my way through Canada. I accepted, and had no regrets. It was nearly virgin water. He took me to a nearby bay in the evening where every cast produced a smallmouth bass. I have never seen any fishing like this before or after!
Wayland E. Noland