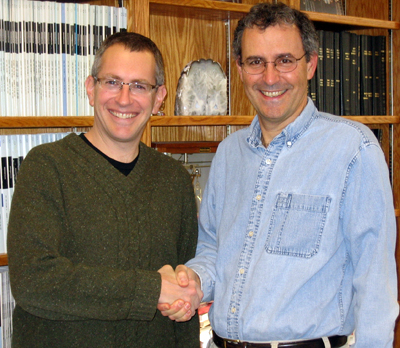 We are proud to announce that Wayne Gladfelter, Institute of Technology Distinguished Professor of Chemistry, and Bill Tolman, Distinguished McKnight University Professor of Chemistry, have been elected as Fellows to the American Association for the Advancement of Science (AAAS).
The AAAS is the world's largest general scientific society, and publisher of the journal, Science. Election as a Fellow of the AAAS is a prestigious honor through which scientists are recognized by their peers for meritorious efforts to advance science or its applications.
Prof. Gladfelter was recognized for "scientific research involving a cluster-based approach to inorganic chemistry, resulting in the elucidation of important homogeneous catalytic reactions, the implementation of new precursors for chemical vapor deposition, and discovery of new nanomaterials."
Prof. Tolman was recognized for "distinguished contributions to the field of bioinorganic chemistry, particularly for the synthesis and characterization of models of novel copper active sites in proteins."
These elections bring the total number of AAAS Fellows in the Department of Chemistry to five (Wayne Gladfelter, Wayland Noland, Lawrence Que, William Tolman, and Donald Truhlar.)