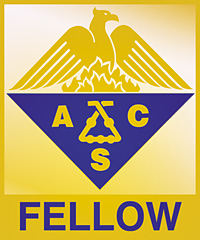 Prof. Truhlar, Prof. Crawford and two alumni named ACS Fellows.
Congratulations to Regents Professor Don Truhlar and Professor Emeritus Bryce Crawford who have been selected as Fellows of the American Chemical Society.
Two alumni of our department have also been selected: Jeannete E. Brown (M.S., 1958) and Frank Blum (Ph.D., 1981)
This is the first class of Fellows of the ACS, and they will be recognized at an August 17th ceremony during the upcoming ACS National Meeting in Washington, DC.
As described by ACS Immediate Past-President Bruce E. Bursten, ACS Fellows "share a common set of accomplishments, namely true excellence in their contributions to the chemical enterprise coupled with distinctive service to ACS or to the broader world of chemistry."
A complete list of the new Fellows can be found here:
http://pubs.acs.org/cen/acsnews/87/8730acs.html