GB: I'm back, and hope that you enjoyed Ellen's narrative, including the fascinating side tours embodied by the various links. At this juncture, I put on my crossword constructor's hat and share with you a bit about how we took this wealth of raw material and fashioned it into a puzzle that its honoree and her family and professional associates should cherish for years to come.
Clearly, we needed to put our honoree's name into the puzzle. MARY_LU_ROFFE has 11 characters, not an ideal length. Hold that thought while we brainstorm for several more theme entries that are long and strong. For sure, it would be great to include the fact that ML is a THREE_TIME_TONY_WINNER [19 characters, at least when phrased this way]. When I learned about ML's illustrious grandfather, businessman/philanthropist Joseph Block [see above for more biographical information about him], it occurred to me that the well-known idiom "chip off the old block" could be applied in a humorous way. Using what those in the cruciverbal arts derisively refer to as a "plural of convenience" (POC), you will note that CHIPS_OFF_THE_OLD_BLOCK is also 19 characters. So I thought we could try for a 19x square grid, with the puzzle's honoree smack in the center. Adding black squares on either side of her name, that still leaves room for two short words symmetrically placed along the edges of a 19-wide grid (11 + 2x1 + 2x3 = 19!). Among several ideas that were considered, I made a joke out of ML's Tony-winning revival of Who's Afraid of Virginia Woolf (with a tip-of-the-hat to "who's afraid of the big bad wolf?") and proposed BIG_BAD_VIRGINIA_WOLFF (sic, 19-characters). To complete the set, I saw the title of ML's current Broadway production, The Realistic Joneses, thought of "keeping up with the Joneses," and made the semi-pun of JONESES_TO_KEEP_UP_WITH (19-characters). Then, as the coup de grace, I noticed early in the process of laying out a suitable grid that I could make another ML-produced Tony winner, i.e. SPAMALOT, span two of the theme entries by going down, and that the KNIGHTS from that play could also span the same two theme entries. Wow! I was rather pleased, and held my breath hoping that Ellen would approve.
Once the fill was locked in, our attentions turned to the cluing, which worked out to be a fun collaboration and a good learning experience in both directions. Without dwelling on the details here, suffice it to say that astute constructors can often increase the theme interest of their puzzles by adding "opportunistic clues"—to give just one example, I inserted the word IDLE (100-Down) for cruciverbal reasons and was prepared to use an easy clue like "laid off," while Ellen realized it was the last name of a major author of SPAMALOT [see above; this completes a trifecta of clues about that particular show]. Sorry, I can't stop at just one example, please note opportunistic clues for playwright ENO (47-Across) and actor HALL (100-Across) to make a trifecta for The Realistic Joneses, and another trifecta salutes the fact that Mary Lu and Kenny live in CHI (95-Down) ILL (97-Down) where during ML's birthday month, CST (1-Down) is observed [and Midway Airport works its way into the clue for 72-Across]. There is more, as you will discover for yourself as you work through the puzzle and read this midrash.
But wait ... A Funny Thing Happened on the Way to the Final Puzzle. During beta testing, we were embarassed to learn that the last name of the author of Mrs. Dalloway is spelled with two o's and one f, not the way we had it. Did you notice that?! Oy, what to do, with the clock ticking towards our intended release date? Michael Hanko helpfully suggested that the original grid could be saved by cluing 41-Across as "A literary editor's nightmare, seen in boldface on the cover of a new edition of Mrs. Dalloway" or, even more succinctly, as "What the proofreader was afraid to see." But we set the highest standards for ourselves, so we initiated an 11th hour search for ways out of the quandary. I suggested several alternative grids, but each came with its own problems. The otherwise most promising grid changed T_AND_A at 13-Down to Jessica TANDY (so far, so good), but then required the odious ARYAN for 29-Across [despite Ellen's suggested clue of "Blue-eyed blondes who live in Darien" that referred to certain toxic understandings—code word "restricted"—that kept Jews out of joining certain residential communities]. That particular grid had AVOCADO_PIT at 30-Down, while another had ASYLUM crossing LEONA_LEWIS, and a third had (the original) ADAGIO crossing GLOBAL_COIN [whatever that is, click on the link and tell us whether or not you are convinced]. Fortunately, Martin Herbach came to the rescue by suggesting the crossing of ARACHN with CHOCAHOLIC. Brilliant! The show has been saved!! [For the record, 16 words/phrases in the 120-word grid were changed, and of course needed new clues; and along the way we sharpened or come up with new clues for four additional words.]
ER and GB: The major theme answers, and their justifications, are inherent in the above narrative and analysis. Below, we cover additional answer words and/or their clues that may interest many of you—even those not particularly into crossword puzzles. Due to space and time limitations, we leave it to the Broadway-minded solver to discover for herself or himself clues that wink at the theater or that pay homage to luminaries of stage and screen, such as CASTS (1-Across), EPISODE (75-Down), RUN (14-Down), PAN (52-Down), SAILORS (92-Across), and SEAT (108-Across), among others. Similarly, feel free to Google (or click on the links already provided) some of GB's signature words drawn from politics, science, and/or sports, like ARA (33-Across), NEO-CON (36-Across), NSF (32-Down), RIBOSE (34-Down), RNASE (59-Down), and STATINS (25-Across). If there are any specific answer words and/or clues that you need help understanding and/or deconstructing, do not hesitate to contact either of us via e-mail.
13-Across: TREF. Ironic, since Mary Lu once told Ellen that bacon is one of her favorite foods.
17-Across: Gale_STORM. Normally, I try very hard to avoid cluing for names when clues to regular words are available, but this suggestion from Ellen was just too good to pass up.
26-Across: RECEDED. Can you blame Ellen for trying to work her brother into the puzzle? [Look at the pictures on this webpage, and judge for yourself!]
27-Across: TALL, dark, and handsome. Can you blame Ellen for trying to work her son into the puzzle?
47-Across: Pulizer Prize-winning playwright Will ENO [links above in the paragraph discussing The Realistic Joneses] provides a new avenue for crossword constructors to clue the time-worn three-letter combination that is invariably associated with producer/composer/musician Brian ENO.
53-Across: NEW_ORLEANS. Our clue, "Saint 'hood," refers to the professional football team in the Big Easy, and is thus accessible to any solver. There are two separate subtexts, one explained in this blog post, and the other referring to the fact that ML's brother Peter Rubnitz went to school at Tulane.
81-Across: NO_CASH. This blog post provides Ellen's personal perspective on Beinlich's, a hamburger joint/watering hole on the North Shore of Chicago, where you can pay only in cash (they do not accept credit cards).
89-Across: POSTING. Check Ellen's biosketch and note that she blogs twice a week. Her posts go up at midnight and are sent to subscribers at 5 a.m.
103-Across: ID_TAG was a way to work in Buster (see above right photo), the Roffe's Old English Sheepdog.
30-Down: CHOCAHOLIC. The story of how this word entered the puzzle has been told above. Was this ever a godsend, though! Our clue refers to this Chicago-based confectioner. We have it on good authority that Mary Lu loves chocolate ... don't we all?!
43-Down: Actor Robert ILER, God's gift to crosswords, played the adolescent son (A.J.) in the title family of The Sopranos. Click here for a 2-min clip.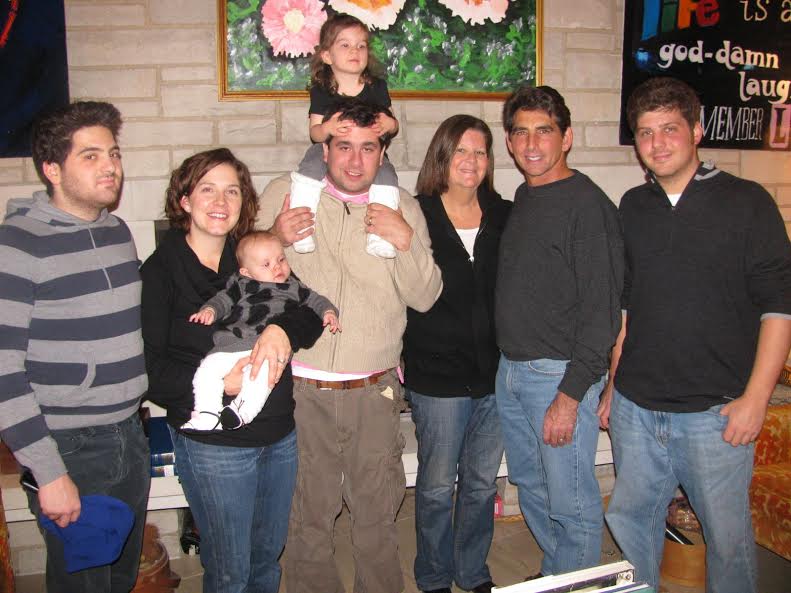 Chips off the old Block (95-Across), aka the Roffe clan, circa 2010. Left to right: Son Andrew, daughter-in-law Ashlee holding baby Susannah, son Greg with Eliza on his shoulder, matriarch Mary Lu, patriarch Kenny, and son Matt. The most recent grandchild, Delia, was born in 2013 (to Ashlee and Greg) and thus is not in the picture.